Welcome to Firewood CostaBlanca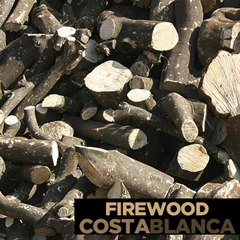 We offer a wide range of different wood sorts on the costa blanca, Oak, Carob, Olive, Orange, Almond and fruit threes. We deliver dry wood with the best quality price in the market. We also sell Wood Briquettes which are compressed hardwood and softwood sawdust briquettes, manufactured without additives. These are of an even lower moisture content and denser than wood therefore burn at a higher temperture. Ideal for chimnea's and pizza ovens as well as your stove or fire.

To satisfy the growing wood pellet market we also sell Wood Pellets. These are 6 - 8mm long pellets, pre packed in 15kg bags delivered to you either by full pallet or you can pick them up your self in our office in La Nucia.

Our wood it's about 30-40cm, it's dry, and very high quality, it's prepared for all kind of fireplaces.
We can deliver in Altea, Albir, Alfaz del Pi, La Nucía, Benidorm, Finestrat, Relleu, Orcheta, Polop, Callosa and villajoyosa without any transport costs for orders from 2.5m3 For Deliveries outside this area we charge a fixed kilometer price Our wood it's about 20-35cm, it's dry, and very high quality, it's prepared for all kind of fireplaces. we always try to offer you a product and service that is value for money.

We have some years of experience in firewood business and our clients are happy with us, that's why we have lots of clients.
We guarantee delivery within 3 - 6 working days from ordering.

We speak English, Norsk, Dutch and Spanish.